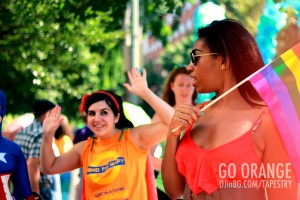 Otessa Ghadar's Tapestry project received a colorful unveiling during this year's incarnation of DC's annual marquee LGBT event, Capital Pride on June 08, 2013. The acclaimed filmmaker and creative brain behind the web series Orange Juice in Bishop's Garden (OJBG) took her message of tolerance and understanding to the streets of Washington DC with her "Go Orange" campaign.
"Go Orange" celebrates the launch of a safe space in new media format for lesbian, gay, bisexual, and transgender youth as a vlog collection project. OJBG, Ghadar's wildly successful web series is currently viewed in over 140 countries around the world, and is widely credited with filling a global void in gay and lesbian youth storytelling. The overwhelming response by LGBT viewers from many countries, praising OJBG's treatment of the sensitive subject prompted Ghadar to think of a way to provide an avenue for these viewers to express themselves. Tapestry will act as a catalyst for tolerance in countries where the subject of sexual orientation is considered taboo. Many countries still do not recognize the existence of the LGBT community or silence its voices. Tapestry is an ambitious initiative to lend a voice specifically to LGBT youth by harnessing the power of the new media. Tapestry aims to provide a safe environment for sharing experiences and true feelings via vlog.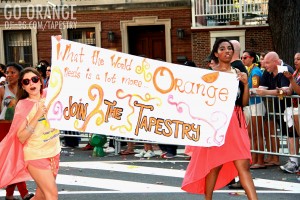 OJBG's cast and crew took to the streets in their own float dressed in their orange "Mind the Gap" t-shirts, promoting the project by handing out Tapestry information cards and downloads to songwriter Jen Foster's song "This is me", the official sound of the Tapestry project. While enjoying a day of positive vibes and understanding the team was also busy taking in the sights and sounds of the parade on film for use in future projects and perhaps in a new episode of OJBG.
While winding the float through the streets of the most influential city in the world, taking the message of tolerance and understanding to the doorsteps of legislators and influencers the crew were cheered on during an interview with Capital Pride organizer Ryan Bos and Chairman and President Bernie Delia: "What you do with OJBG and Tapestry is fundamental in helping overcome censorship of LG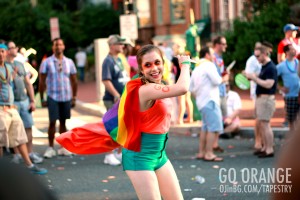 BT content. The sharing of stories is central to global equality" they opined. "It is an honor and a privilege to do this work, because it is hardly my first Pride, but it is someone's first Pride. And I think we all carry that as one of our messages. As far as we have come, we have still have much further to go" added Delia.
After all this fun, the crew of the Tapestry project will now go back to work to put its ambitious plans in to action. The Tapestry video will be screened in select locations and will be made widely available online. For more information or to participate, interested parties can email the project at reply@twentytwentyproductions.com.