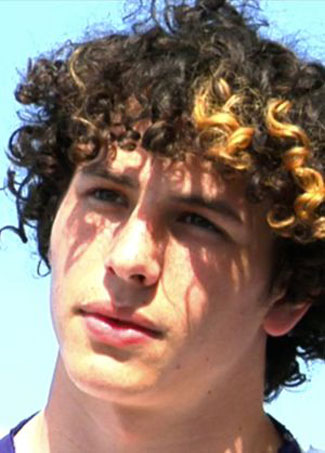 Name: Slake Ostler (played by Jesse Swire)
Birthday: June 7th 1978 (Gemini)
Favorite Color: Your Eyes
Ice Cream of Choice: Minto Choco Chip
Amazing and 100% TRUE Shit I can do: Bust through my shirt by flexing
Favorite Memory: When I wake up the next day and don't remember. Makes me smile.
I know like 5 chords on guitar but if anyone asks me if I play an instrument, I always say I'm kind of a virtuoso.
There's a couple things that people like to know about me: yes, my hair is naturally curly, and yes, you can touch it. Yeah, Collin's my best friend and of course I won't tell you that story.
Raves are cool. So are cups filled with drugs. SIKE! Totally not cool. If a chick with glowsticks, fake lashes, dilated pupils and a chest covered in glitter asks you if you're thirsty, just fuckin' say no. Save yourself.
Here's a poem I wrote:
Roses are red
violets are blue
Line 3 doesn't rhyme
and even though I tried REAL HARD to shorten it Line 4 has too many syllables
Like it? I wrote it in my head after that chick gave me a cup filled with drugs.
In conclusions: drink water. It is healthy, safe, and doesn't induce stupidity
P.S.
Hey Kris
One Minute in the Life of Slake