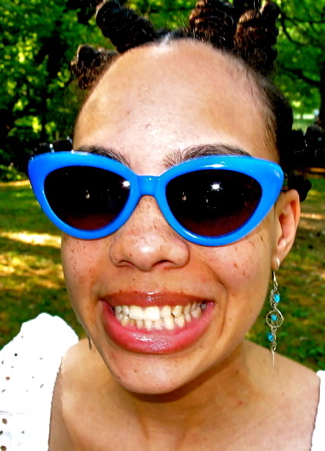 Name: Liberty (Libby) (played by Donnis Collins)
Birthday: February 3rd, which means I am an Aquarius baby!
Favorite Color: Purple
Favorite Memory: Fishing and raving with my "Fantastic Four"!
Hey Party People!
I'm Libby, yes that's short for Liberty but please don't call me that! My mom only uses my "government name" when I am about to get grounded…so you can probably guess that I like to party. That is an understatement. I love to party! However, sometimes my irresponsibility can get me in trouble. I am not a troublemaker or anything….I just like to have fun with no bounds whatsoever. You can call me a new aged hippie, I love keeping the peace, concerts….and all the other stuff hippies partake in ;). If you wanna get pop culturally technical I am a cross between "Denise" from the Cosby Show and Drew Barrymore (during her wild, "poison ivy" days) with a splash of Punky Brewster. Remember her!? I love those freeze pops that come in a pack of hundreds from Sam's Club, the color purple (not the movie, but the actual color), tutu's, Doc Marten's, glitter, black lights, glow sticks and just chilling with my "Fantastic Four", which are my besties. I also love to RAVE, my friend Remi got me into it and there was no coming back! I love Radiohead (its great "make out music" surprisingly), Janet Jackson, Madonna and my guilty pleasures are karaoke and watching Star Search re-runs. You think you're ready to hang with me? If you are actually thinking about it, you are halfway there!
Love, Peace and Chicken Grease 😉
Libby