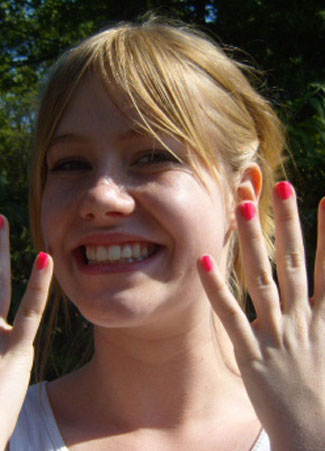 Name: Kristina (Kris) Mitchell (played by Verity Allen)
Birthday: April 26
Sign: Taurus
Favorite color: Yellow
Ice Cream of Choice: Rocky road
Special Skill: Can drive stick. Sorta.
I moved to Washington DC just under two years ago with my mom, new step-dad, and older step-brother Colin. I'm pretty quiet and shy around people I don't know very well; so making friends isn't always easy for me. Once you get to know me, I'm super friendly and a completely loyal and devoted friend. So, my first few months in DC were kinda rough, until I met Sarah Roberts. Sarah and I are best friends. She totally took me in and we just meshed. She brought me into her group where I met people like Maggie, Yasmine, Roxanne, Beth, Jake, Tripp, Travis, Ryan, and Nate.
When we're all together I like to sit, listen and observe. You wouldn't believe the things you see when you're really looking. Honestly, I think people think I'm a little bit strange. I enjoy things like reading old history textbooks, or finding really smooth stones, or just lying on my porch deck, with my feet in the air, counting stars. And of course, nothing beats getting together with friends, a couple of 40's, and causing some trouble at Bishops Garden!