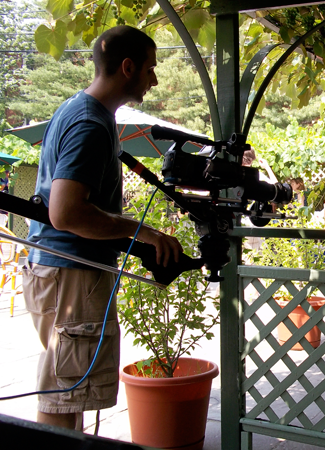 1st AC, Season 3
(Disclaimer: We were unable to reach John for his bio, so the OJBG Crew came to the rescue with a version of our own!)
John Nap is a simple man.  He hardly ever spoke– so when he did it became extra important and meaningful sounding. He also never complained.  EVER. Period. Even when carrying that damn Steadicam for hours in the record-breaking heatwave of the summer of 2010.
He is an upstanding fellow and former Marine.  (Support our troops!)  And a former DC cop!?  (Kathryn swears this is true, but we never heard this.)
John Nap also had a girlfriend, whom we were all super psyched to meet, but then she wasnt feeling well the night of the wrap party so we never got to. 🙁  But we are sure John and his GF are a power couple for the new millenium.
In summary: John Nap is an amazing crew person.