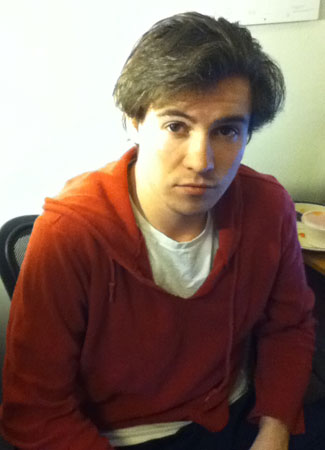 Gaffer/Grip, Season 5
Connor was grew up in Virginia as well as Alice Spring, Australia. In Australia he gained an appreciation for acting and filmmaking. Moving back to Virginia he carried his passion for arts expanding it to music and writing. After graduating from Bishop Denis J. O'Connell, he went Center Valley, PA to attend DeSales University to study TV/Film and creative writing. While there he was also apart of the DeSales Discourse Writing club. Upon graduating Spring of 2001, Connor has moved back to his native Northern Virginia. He currently freelances as a PA; grip; gaffer; and DP. During the day the night he waits tables while in the time between and any free time he can snag he writes short stories/scripts; paints; and works on film sets.
Fave. colour: mainly purple, but I believe any colour can be worn properly.
Fave film/shows: Its' A Wonderful LIfe; 12 Angry Men; westerns and many more. Arrested Development and Game of Thrones.
Fave bands/music: Mainly classic rock, so The Doors; Steppenwolf; Peter's Green Fleetwood Mac; blues; classical; jazz; bluegrass; and some riggity-rap.
Ice Cream: ALL.
Special/Weird Skill: Knows historical; religious; and Australian trivia.