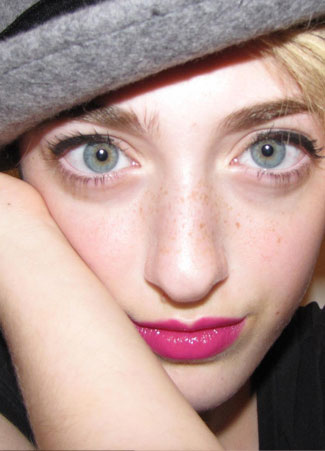 Name:  Cassandra (Played by Sarah Hirsch)
Birthday:  May 8
Sign:  Taurus
Favorite Color:  sunset orange
Favorite OJBG memory:  Performing with the band at the Comet! The
energy of the crowd….Alex and I dancing…living our Spice Girls wannabe
dream…. And listening to Sarah sing. I try to take risks and try
things that I am uncomfortable with, like singing, and learning from
her is amazing. And well, I get to be the tambourine girl 😉
My parental units are still stuck in the 60's and don't believe in the
formal educational system, so I'm homeschooled. However, they did let
me take art classes at the local high school, which is how I saw the
flyers for Sarah's band auditions. Growing up with hippies as parents
has been….interesting. I tend to catch myself quoting a lot of Austin
Powers movies. I've never been to a hospital or doctor's office since
my mom makes her own special concoctions from herbs she grows in our
backyard. Despite my parents influence, I try to establish myself as
an individual, so I'm not really the poster flower child. I'm a little
grungier than that.  I love roller coasters, animals (especially sea
creatures), staying up to see the sunset, waking up early to see the
sunrise, and looking at the stars in between. I love getting lost in
painting as I blast Nirvana and Alice in Chains during the twilight
hours. When it comes to people, I'm outgoing and protective of my
friends. When they get hurt, I arm myself with some truth, major mojo,
and tarot cards.
You're shagadelic, baby!
Cassandra 🙂