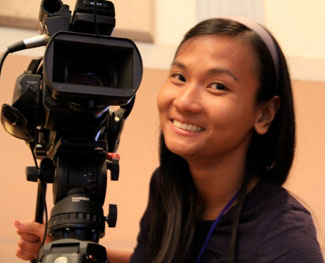 DP, Season 5
Bim Mamber or Kunlakan Chanakan Mamber grew up in Kalasin, a small town in a remote Northeastern part of Thailand. When she was 6, her aunt took her to see A Better Tomorrow, a Hong Kong action-drama starring Chow Yun Fat, directed by John Woo. It was her first movie theater going experience EVER. Since then, she always knew she would make movies one day. Falling in love with Dan from New York in 2000, marrying him in 2002 after graduating from Khon Kaen University with a BA in English, Bim ended up in America with the last name Mamber. In 2009, She decided to pursue her long time passion by attending a digital film-making program at CDIA Boston University. Bim currently works as a freelance producer/videographer/editor for her own production company called Green Bug Productions. She has shot several documentaries and short films. Her goal is to make at least one memorable super creatively scary horror film in her lifetime.
Fave color: GREEN!
Fave films/shows: Too many films to name/ Entourage, Scrubs, Dexter, The Soup, Family Guy, South Park
Fave bands/music: Silly Fools(Thai rock band), The Offspring, Coheed and Cambria, Treble Lifter, ETC(Thai pop/jazz band), Flyleaf, Incubus, 10 Years, Lifehouse, The Script….and so on. I appreciate all kinds of music and things and stuff…but I have no room in my heart for Techno.
Fave ice cream: Coffee and vanilla
Special/Weird skill: Awesome at doing the robot