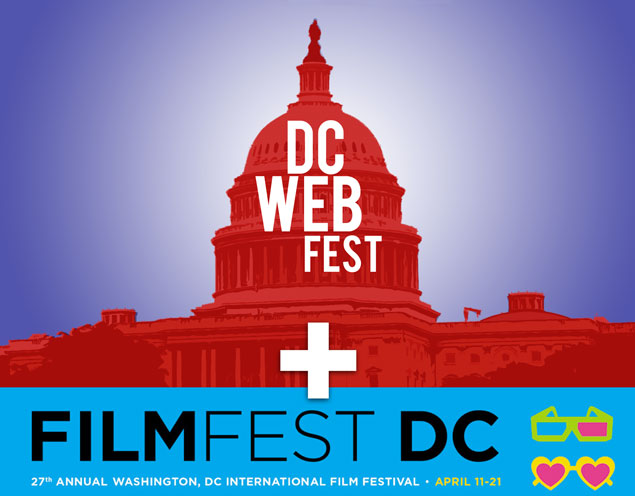 Sunday, April 14th at 2:00 PM

NYU Abramson Auditorium

FilmFestDC Celebrates New Art Form and Collaborates with ITV Innovator Otessa Ghadar at Upcoming Panel Discussion

A new entertainment format, the Web Series, is changing the film industry. The new Internet-based art form made its long-awaited festival debut on April 6th, 2013 at the DC WebFest at the Arlington Cinema and Drafthouse. Otessa Ghadar, founder of the DC-based new media company 20/20 Productions and Greg Godbout, owner of the Arlington Cinema & Drafthouse, came together to put Washington, D.C. on the web entertainment map. Together, they showcased local talents and introduced this new film medium with its first theater screening in the Mid-Atlantic region.
Ghadar will be now bringing the best of the DC WebFest to the upcoming 27th Annual D.C. International Film Festival, a week-long showcase for new international cinema and talent held from April 11-21. Filmfest DC invited Ghadar to showcase some of the best web series produced by creators in the DC-area and to present a panel discussing the dynamics and potential of the web series within film industry. Among the locally produced series to be screened include "Orange Juice in Bishops Garden" (OJBG) one of the oldest and longest running web series online, "Thurston", a new Western drama series, "Anacostia," a soap-opera series that follows the lives of the DC neighborhood's residents, "Malice," an original and haunting horror, and "Mo and the Cheese", a comedy new to the medium, among others.
Globally viral, much-beloved, and highly-lauded show OJBG is created by award-winning filmmaker Otessa Ghadar.
As one of the medium's earliest adopters, Otessa began OJBG in 2007, when the idea of the internet television was still in its infancy. OJBG tells the story of naive and rebellious teens growing up in the 90s DC grunge era. Set on the cusp of the Internet Age, the show follows the lives of a group of teenagers navigating high school and growing up, getting down, and coming out. As one of the oldest and longest running web series, it's a true forerunner and pioneer of the wild west of film. Being screened online, OJBG also fills a global void in gay and lesbian storytelling among LGBTQ youth and, more importantly, acts as a catalyst for tolerance in countries where sexual orientation is considered taboo. Her series has recently been screened at SXSW's OUTlander Project, Dinah Shore, and is a Telly Award Winner, 4 times LA Web Fest Winner, and Webby Awards Official Honoree. Otessa and her work have been honored by the Human Rights campaign, and Otessa has been named "Filmmaker of the Month" by the DC Film Office. OJBG is now airing on DCTV and has fans in over 140 countries around the world. The series is currently being subtitled in several languages.
Highly celebrated and universally admired during the DC Web Series Festival was "Thurston" created by Paul Awad and Kathryn O'Sullivan. "Thurston" is a Western drama about the residents of a remote mining town and their struggle for survival in the 1880's Kansas Ozarks.
Some residents are fleeing troubled pasts. Others are pursuing dreams. All keep carefully guarded secrets. As outside forces move in, the residents must decide who amongst them is friend and who is foe as they fight to save their lives and the place they now call home. "Thurston" seeks to retell the American story of the West and its peoples for the new frontier of online television.
"Anacostia", created by award winning local web series star Anthony Anderson follows the lives of the residents of Anacostia, a small residential community in Washington D.C. as they navigate through love, betrayal, deception, sex and murder, with a season finale that will leave your mouths open. This series is filmed on location in several areas including Washington DC, Landover Maryland, Baltimore Maryland, Virginia and New York City.
"Malice" is an original series, tightly scripted, directed and produced for brisk story telling by Phil cook – a veteran of independent genre films. The series is about the Turner family's supernatural adventures in a house left to them by their late Grandma. The father has just returned from a combat tour in Afghanistan, reuniting with his recovering alcoholic wife and two daughters, Abbey and Alice. The whole family hopes that a change of venue, a new town, new home and new school will reboot their troubled lives. But no sooner do they in than strange and macabre events seemingly manifest from the very foundations of their old house and family members one at a time start to disappear.
Compelling, promising and well–crafted were words overheard in the audience last weekend when describing the comedy series "Mo and the Cheese", piloted by newcomer Connor Bergeron a noteworthy web series creator on the rise. Mo & the Cheese, two renegade cops, take the law into their own hands, one webisode at a time. In a world of professional flatfoots, the two wise-cracking detectives throw the book right out the window and spit in the face of injustice to the delight of the law-abiding viewership!