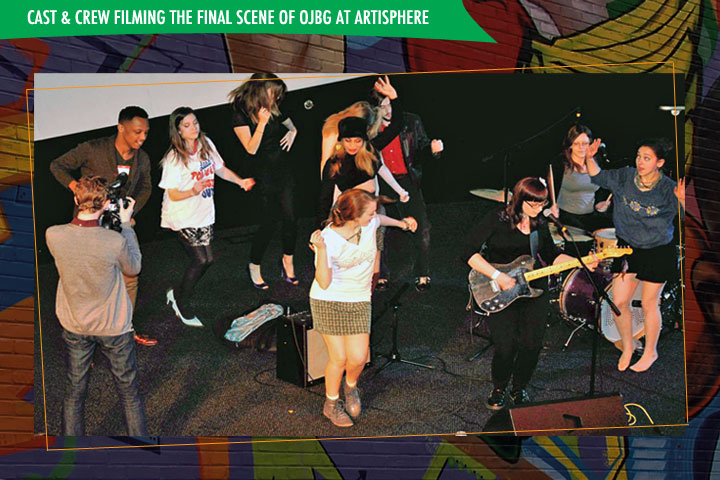 Popular Web Series, Orange Juice in Bishop's Garden (OJBG) Fills Global Void in Gay and Lesbian Storytelling
OJBG's final season premiere sparks conversation on Gay and Lesbian identity, acts as a catalyst for tolerance in countries where sexual orientation is considered taboo.
Arlington, VA.
The new season of the popular web series "Orange Juice in Bishops Garden" saw its official unveiling at Arlington's Artisphere on Saturday, February 16, 2013. The series commonly referred to by its acronym OJBG (www.ojinbg.com) is now in its sixth and final season. OJBG has been universally acclaimed as telling the story of teen experiences without the filter and glamorization often found in the mainstream media and Hollywood production companies. OJBG follows the life of 18 teens of the last pre-Internet generation, growing up in 1990's Washington DC. The series has a devoted following not just locally but throughout the world, in over 140 countries, making it a phenomenon. OJBG is clever and energetic but never glossy or cute. Its talented cast is original, never fake, and likely to be heard from again very soon.
After the premiere the cast and the show's creator, immensely talented Otessa Ghadar, were on hand to answer questions from the audience and twitter feed, quickly bringing to the surface the reason behind the show's global appeal: while putting on display the pains and joys growing up, the story of finding one's sexual identify loomed the largest. Indeed, the nexus behind the international appeal and the frank and unfiltered display of gay and lesbian experimentation strikes a chord in many countries of the world where such discussions would not even be held in public.
"It is immensely gratifying to hear from fans from around the world where being a gay or lesbian teen, having feelings for someone of your own gender is simply not acceptable." says Ghadar. "We noticed that our show fills a huge void for large audiences in many different countries. That's why our choice of format for the show, the web series, is such a fortunate one as it allows viewers in those countries to feel acknowledged. While the series is not exclusively dealing with gay and lesbian issues, the fact that we don't sanitize it gives us truly global appeal, especially with the gay and lesbian community. In fact, demand is such that we are subtitling the show in French and perhaps other languages to even better reach those audiences."
If the past is any indicator, it stands to reason that the show's success is going to grow even more during its last season as it appeals to an audience that is overlooked, made a caricature or even denied its existence.
VIDEO: Q&A – "OJBG Worldwide"